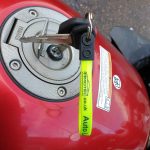 Immotec can provide new keys for your lost, stolen or damaged bike keys throughout the UK. Our specialist motorcycle locksmith service will re-programme your motorbike's ECU in order for it to accept the new keys. Unlike main dealers, we don't need to actually replace the ECU which can cost hundreds or even thousands of pounds.
Nationwide Replacement Motorbike Keys
If you've lost your bike keys anywhere in the UK, our mail order service is fast and efficient to get you back on your bike in no time at all. We can analyse your key's unique transponder data and cut a new key for you.
We supply keys for most major bike brands, including:
Honda
BMW
Kawasaki
Suzuki
Ducati
Yamaha
Triumph
Harley Davidson
We also provide replacement keys for most Scooters & Mopeds, including Piaggio, Vespa and Aprilia
To find out more and for a free estimate, please complete the Contact Form or call us on 07748 114114
To prevent fraud or theft, in order to replace a lost or stolen key, we will need a Photo ID and Proof of Ownership
We also offer the following motorbike key services:
Key Cloning
Send us the original key and we will analyse the transponder data and copy it onto a new spare key
Key Cutting
If your key is broken in the bike's lock, send us your ignition lock and we will remove the key and cut a new key